Student Affairs Department
International Student Club
Welcome To International Student Club
Students' rights and duties
The student registered at Al Buraimi University College is the main focus of the educational process, and the student retains rights granted to him by the college, and he must also abide by the duties imposed by the college's instructions, which preserves the balance of the academic and administrative relationship between the student and the college and in a manner that facilitates the process of achieving the goals and maintaining the excellence that the college aspires to. The Deanship of the College educates students about their rights and duties and the consequent procedures.
International Student Privileges
Discount for internal housing for female students only.
Reception and farewell at the airport for new international students.
Free tourism program in the Sultanate.
Residence visa with renewal at the expense of the college.
Study discounts up to a maximum of 20%.
International Student Club.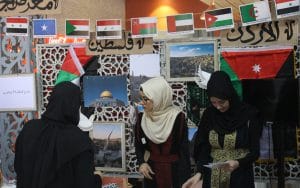 Al Buraimi University College assists international students who obtained initial admission in obtaining a study visa. These students must submit the required documents to the Personnel Affairs Department:
Certified medical examination certificate (if required for some nationalities).
a copy of the passport.
Two personal photos (passport size).
Evidence of a student after completing the college registration process.
Receipt of payment of the registration fee.
In order to renew the student visa, students must submit the required documents to the Student Section, Personnel Services:
The original passport.
A copy of the study visa.
The original resident card.
Two personal photos (passport size).
Student enrollment letter and the remaining period of study from admission and registration.
Information about the Sultanate of Oman
Geographical location
The Sultanate of Oman is located in the southeast of the Arabian Peninsula and is bordered by the sea on two sides, the Sea of ​​Oman from the northeast side and the Indian Ocean from the southeast side, while the Sultanate is linked in its land borders with the Kingdom of Saudi Arabia to the west and the Republic of Yemen to the south and is bordered to the north by the United Arab Emirates.
Sultanate area
The total area of ​​the Sultanate is about (309,500) thousand square kilometers, and most of the Sultanate's lands are dominated by a desert nature that includes gravel plains and sandy dunes areas, the largest of which are the Al Wahiba sands in the east and the Empty Quarter sands in the west. The southeast is where the Arabian Sea and the entrance to the Indian Ocean until it ends at Musandam in the north overlooking the strategic Strait of Hormuz, where the entrance to the Arabian Gulf.
Omani history
Oman is an ancient country as old as history. It has contributed in many historical stages to a large civilizational share. In other periods, it was an influential naval power. Its relations and connections extended to China, the United States, Britain, and France, and it received its ambassadors in the capitals of these and other countries centuries ago.
Call the office
Telephone number: 25657666
office location: Building B